Preparation
I didn't know anyone who is interested in hitchhiking, except this one guy Karol that I met on one of Erasmus+ Youth Exchanges. He told me that he went to Portugal by plane and had a mission to come back to Poland, I was really intrigued by this. I was really actively looking for someone who could partner me in a hitchhiking trip, it was hard. A lot of my friends couldn't do that because of parents limiting them - hitchhiking here has an opinion of something very dangerous. On my final high school exams I met Krzysztof, he was taking care of students in a school dormitory. I remember him appreciating how small bag I had when compared to other people, this made me think and some day I just randomly asked him - have you ever hitchhiked? My guesses were right, moment later I could immerse myself in a history about an autostop trip to Turkey when he was my age. I got even more stoked when he shared his experiences from hitchhiking in Southeast Asia. I received a lot of help from him, when I started looking for a backpack - he gave me suggestions and even composed a packing list :D. I can surely say that he had the biggest influence on me in this whole hitchhiking world, thanks Chris. When I was leaving the dorm, I promised to him that I'll get back to with a postcard from a hitchhiking trip this summer. I pulled the magic thumb on a road for the first time in May 2023, I had to go to a train station from my family's home. After hopping into a car I realised it's my neighbour, we started talking and she asked "where do you live" - I was kind of confused, then she realised - supposedly I've changed a lot lately. It was June, and my plans for summer were do 3 weeks of volunteering work in the 2nd half of June, and 1 week of Erasmus+ Training Course in the middle of July. I thought - why do I still want to rent this flat and pay 500$ each month. Started process of de-cluttering my life. Monitor, sofa, vacuum cleaner - everything sold in just a few days. I started reading about One Bag Lifestyle. After a few days I was fully ready to move all my belongings in a 40L backpack. I made a decision to do volunteering in Kraków and right after move to Warsaw, as it was only 150$ for room rent. To prepare for my future journeys I thought I want to practice hitchhiking a little bit, so the routes between Warsaw and Krakow were made by this form of transportation - which even then I knew was amazing, I met so many interesting and open minded people, going 250km/h on a ring road in the newest Mercedes AMG, or getting a ride by Indian guy with a Belarusian girl after 4 hours of standing with a sign, where instead of going "just for a ride around Warsaw", they went 300km round trip to Kraków - Thank you guys, I was so close to a surrender, the fact you've stopped brought back my faith in hitchhiking. In the middle of June I received an e-mail from some organisation saying that I have been admitted to Erasmus+ 5-day Training Course in Turkey, close to Istanbul. They made a group chat and I have contacts with one girl and proposed an idea to maybe hitchhike together right after the project. To my surprise she agreed to go with a completely random guy on a hitchhiking adventure in the Middle East.
Turkey - arrival
On 12th of July I was flying from Poland to Istanbul through Antalya, where I had to change to a different terminal. It was my first time in this country, and first time in a muslim country - I've been shocked by people wearing burkas and head scarves. Living in Poland doesn't give me such views, we are very concise religiously and muslims are pretty much non-existing here.
Düzce - Training Course
After a few hours in an old and crappy bus from Istanbul we've arrived to the city where we were supposed to have the training course. What is surprising - I've met Karol, the guy who first inspired me about hitchhiking. During the whole 5-day project we had one day free. Everyone wanted to go to the coast 55km from Düzce. They all agreed upon a bus, but me and Karol had a different ideas in their minds - let's go by hitchhiking. Before they left we asked where on the beach exactly they're going to stay. It was my first hitchhiking experience abroad - at first it was quite hard because we didn't have a good spot to start from. After a few cars we've finally arrived, the last part was to walk around 2 kilometres on rocks because they went to a different beach than before. It was a really good lesson from such experienced hitchhiker as Karol is. He showed me how chill he is when doing that. On 17th - the last day of the TC I've prepared itinerary for the trip, and what cities we want to see on the way.
Ankara - the first stop
18th of July, 9 am and from a small city close to Istanbul we are starting the most exciting and budget friendly trip in my life(so far). We started by going to the capital of Turkey - Ankara, there we have found a host on couchsurfing.com. After like 15 minutes of standing on the highway we've found a car going straight to Ankara, we were treated with with tea half way there, they didn't speak English but we somehow managed to communicate with Google Translate. The way to Ankara was full of cool views on desert-like terrain. We arrived and first we did is we bought hammocks from Decathlon, just as a backup plan in case we won't find anything some day. In the center I was quite amazed by how crowded, and those Turkish markets with fake everything are completely real. We went straight to our host, little did we know that the flat is in the direct centre of Ankara, with an amazing view to the whole city. We've received some Turkish specials from friend of our host, they were amazing. In the evening we went to see his friends, I thought it'd hard for us to talk with them, as we don't know Turkish. To our surprise it was a very international circle of friends. We spent an hour or two discussing social sciences and MBTI theory with one French guy who's a lecturer in Turkey.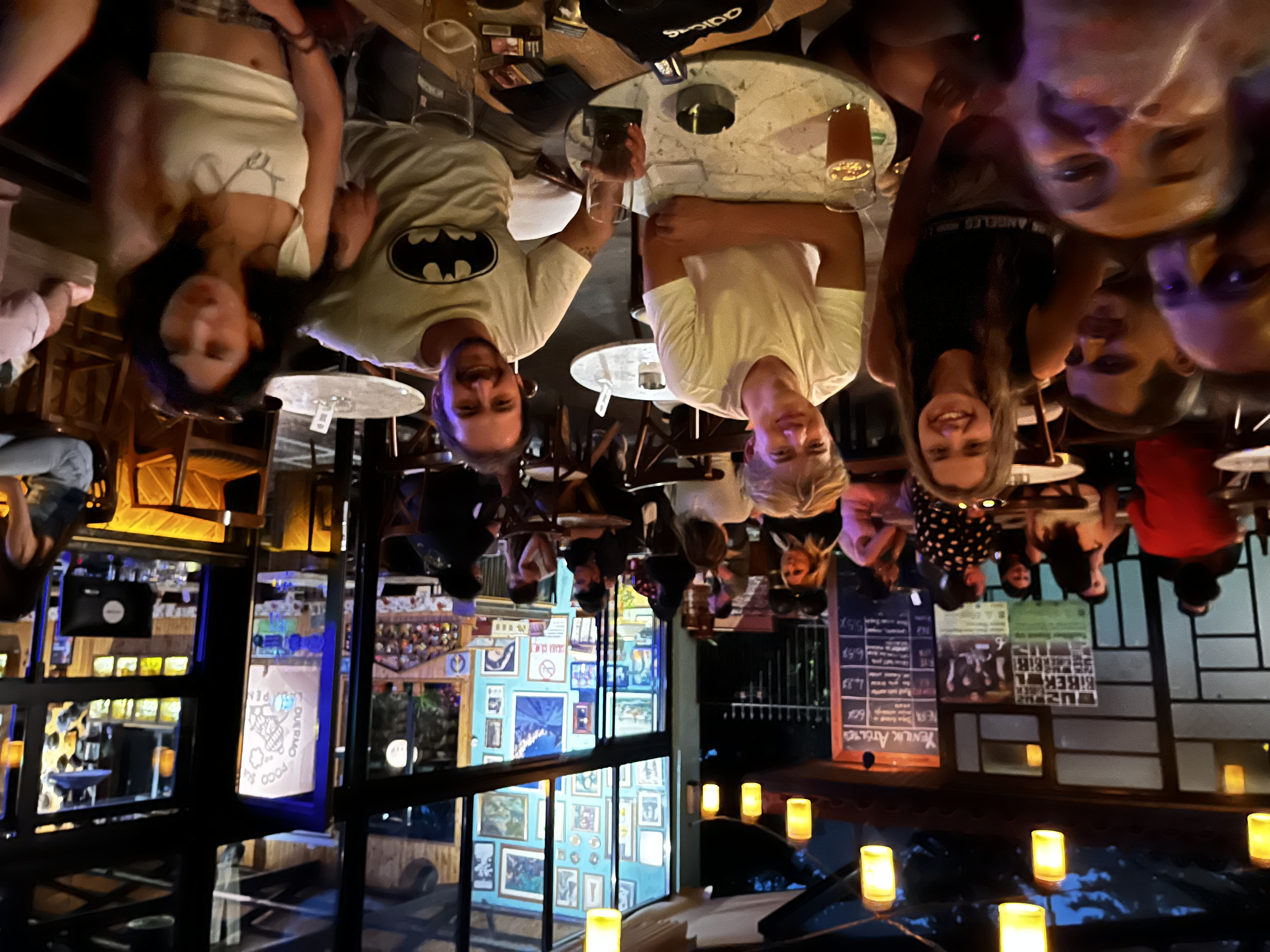 On the way home, we've found the US Embassy, and our host explained what's so wrong about it, and at the same time explained why there are X-Ray scanners in every shopping mall. Turkey had nearly 50 incidents of terrorism in the past 30 years. This was very surprising for us, as we're coming from a country that never had even a single terrorist attack. After coming back home, we continued the conversation with the lecturer, he really intrigued me by the fact that he's having a polyamorous and open relationship, at some point one of her girlfriends joined us and spoke about her perspective. That's really interesting, not sure if I'd like to have such relationship, but nevertheless it's good to know that it can work.
Cappadocia - hot air balloons
After a 30 minute bus ride from the centre of Ankara, and a few minutes of walk, we've found a gas station - perfect spot for finding ride straight to our first destination - Tuz Gölü, Turkey 2nd biggest salty lake. We barely even made a sign, and some guy reached out to us, saying that he can take us, but he has to go to graveyard for something. That's great, we were waiting next to the car and suddenly another guy came and told us that he'll find something for us, we've tried explaining to him that we already have a ride, but with no success. He started asking random people at the gas station if they can take us. No surprise that he found us another ride, we decided to go with the new guy, which later turned out to be a really good decision :D. Not only he took us to the lake, he walked there with us and took us to the city Göreme, where we had a plan to sleep on hammocks till the sunset, and then watch hot air balloons. With Dogukan we took an untypical route, seeing all the rural areas and farms. Dogukan offered to host us at his family home, that's really amazing. The weather in this region during the nights turned out to be way colder, as the humidity is lower, so we'd definitely freeze in hammocks. I didn't even took long bottom, only shorts. His place was really nice, he took us to the closest city Avanos and we ate some real kebab there. We wanted to show them the Polish culture as well, and we cooked Racuchy, which are kind of similar to pancakes, but with apples inside.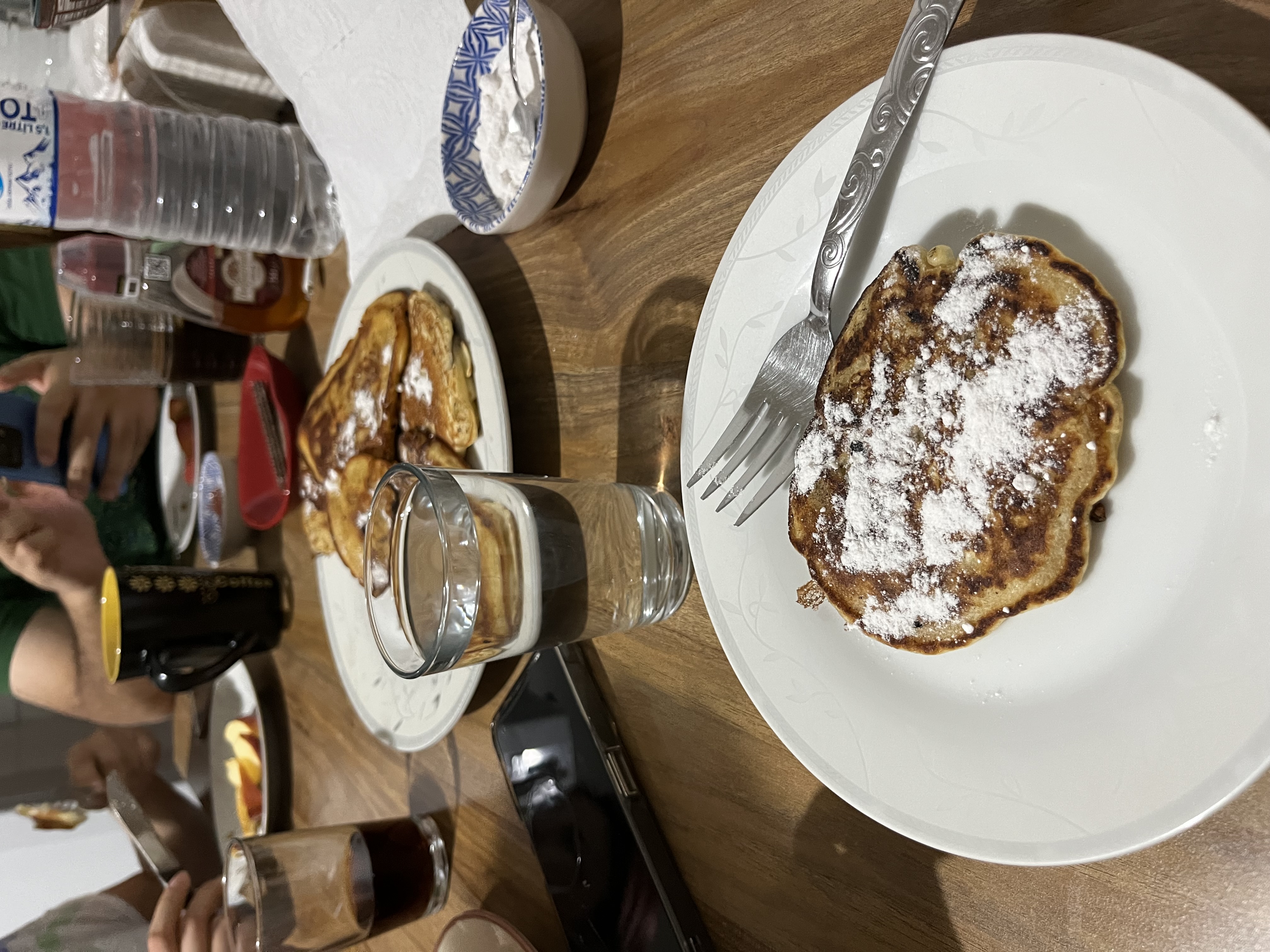 Coast area of the Black Sea
Plan was to get to Samsun - coastal city roughly 6 hours by car. Ola fucked up the route and we ended up in the middle of nowhere. Fortunately I took over the navigation process and after an hour we're back on the track. Took us a lot of time to get there, we arrived at the midnight, and with having nothing found on Couchsurfing, we've decided to sleep in hammocks, it took some time to find an appropriate spot, but we eventually hanged the hammocks on some random tree in a park, one on the top of the other one.
Sleep was good, until around 4am when they turned on the watering system and we got sprayed. We had nothing to do except laying on concrete at promenade, waiting for the hammocks to dry.
As until now we were pretty good about hygiene, we showered every day, this day wasn't an exception - we went to some gym and asked if we can just take a shower, and they agreed! A simple shower at a random gym also ended up in a coffee at starbucks and meetings his friends, that later told us what to see in the city. That's actually what I really enjoy about hitchhiking, the fact that you can ask local people what's there to see, where as when you travel alone you're left with just internet, which is exhausting and I don't necessarily want to go to those "famous tourist places". Spent just a few hours in this city, and we went to Rize, where my friend Bora had an aunt and they could host us. The way there was really interesting, as we started waving some guys approached us asking where are we from, and then they really wanted to make photos with us, I kind of felt like an alien on the earth being there, there were quite a few people around us, I think it's very uncommon for tourists to be there. Fortunately one guy took us a few kilometres further, where there was a straight way to the destination. If someone would ask me "what was your most dangerous situation throughout the trip", it'd be this - a story not about people wanting to do bad things to us, but 3 guys sitting in a car with us and smoking crack, driving like crazy next to police and barely hitting truck in front of us when overtaking. We kind of underestimated the route, and arrived there by around 3am. She wasn't angry, but I felt kind of bad for them having to stay until that late. In the morning we had a really amazing breakfast, with all of Turkish specials. That's another thing I really like about that, you get to sleep in real homes of real local people, and you get better food than you'd get at any restaurant.
Artvin
Unfortunately we had to leave their home quickly, going for a local festival in Artvin. We were taken there by a bus - but no we didn't break our rule of not spending anything on travel. Even though it doesn't look far away on the map, it took us quite a lot of time to actually get there, it's on top of one of the Turkish mountain ranges. The place where the festival took a place was a wonderful valley in forest about 1800m above the sea level. The whole festival looked similar to what we had during our childhoods in Poland, this very countryside kind of vibe. We were playing volleyball and dancing Turkish traditional dances. I felt like everyone is looking at me, and I wasn't totally against it, I felt really unique - I was the only one having blond hair and blue eyes. To my surprise no one was drinking alcohol, in Poland we'd have a beer store in the middle of everything, while they were having tarps and very small fireplaces
---
TO BE FINISHED
Summary
Traveled 3 countries, 3 capitals, 22 cities and 3200 km in total. It took us roughly 13 days and we've met a lot of amazing and kind people. I knew hitchhiking in this region was going to be easy, but didn't expect it to be THAT easy and pleasant.
| | | |
| --- | --- | --- |
| Country | Expense | Expense in USD |
| Turkey | 643.45 TRY | 23.86 $ |
| Armenia | 2470 AMD | 6.38 $ |
| Georgia | 136.34 GEL | 52.44 $ |
| Summary | ---------- | 82.68 $ |
For the flight to Istanbul I didn't pay as it was covered by the Erasmus+ programme. For the flight back to Poland from Kutaisi I've paid 88$, could be done cheaper tho if I bought the ticket in advance. Was it the most budget trip so far? Yes. Was it the most exciting trip so far? Also yes! And nobody will tell me that you need lots of money to travel, you just need to open your mind and lower your standards - 4 nights were outside, but rest of them? Couchsurfing and drivers met on the way! Could it be done even cheaper? Yes, simply remove Tbilisi and Batumi which were expensive as hell - they're very touristic places .
Decision on no internet
Throughout the whole trip, we didn't have internet. Only public WiFi's and Hotspots. I've downloaded Turkey in the Organic Maps app, and Turkish and Russian language in the iOS built-in Translate app. I am really happy because of that, we relied fully on each other and people met on the way. I felt freedom during this, I didn't have the need to check if someone wrote to me or wanted something.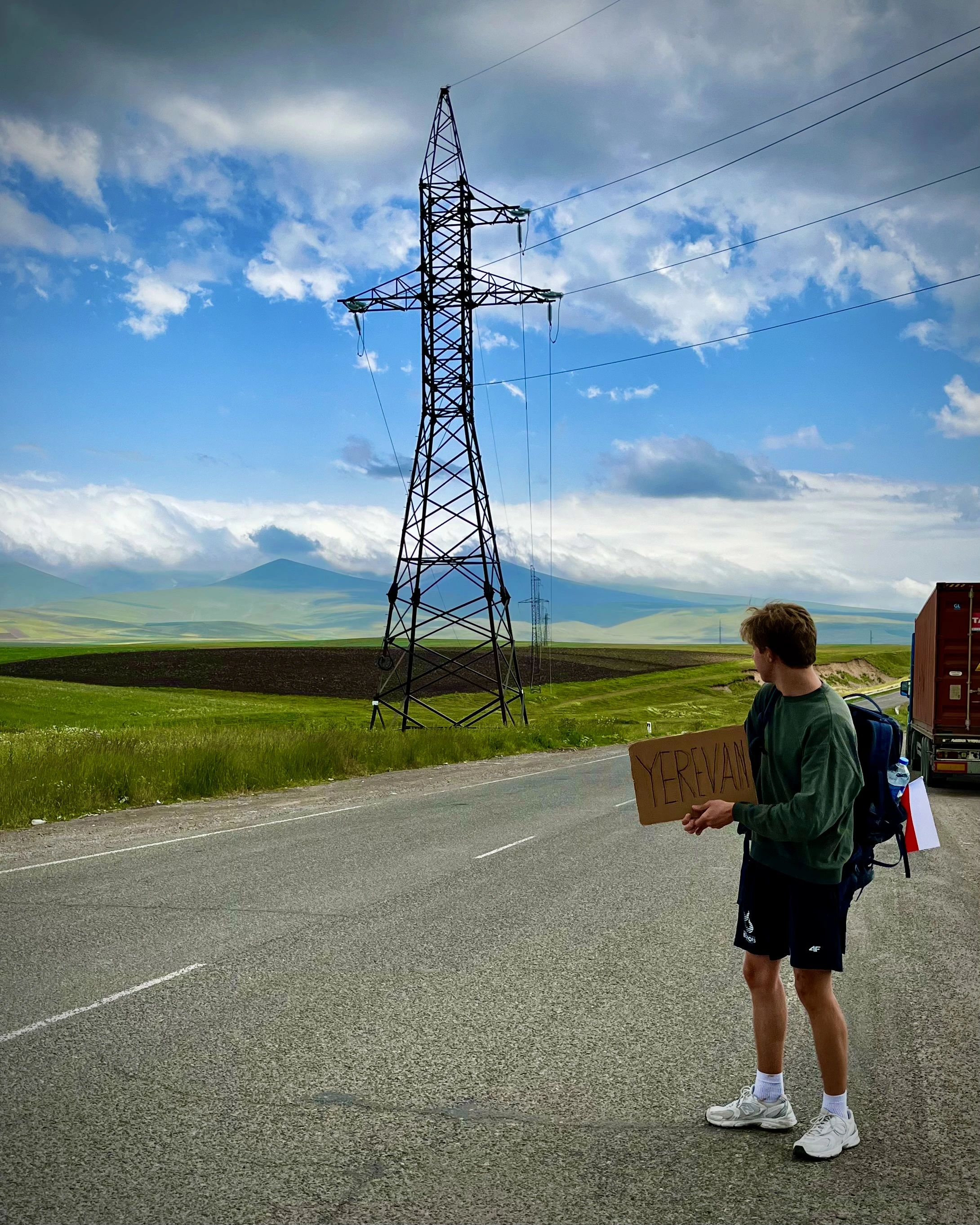 Places we've visited.
🇹🇷 Düzce
🇹🇷 Ankara
🇹🇷 Lake Tuz
🇹🇷 Avanos
🇹🇷 Göreme
🇹🇷 Samsun
🇹🇷 Pazar-Rize
🇹🇷 Ardanuç
🇹🇷 Çurisbil Yaylası
🇹🇷 Sakarya
🇹🇷 Cehennem Deresi Kanyonu
🇹🇷 Ardahan
🇹🇷 Türkgözü
🇬🇪 Akhaltsikhe
🇦🇲 Gyumri
🇦🇲 Yerevan
🇦🇲 Sevan
🇬🇪 Tbilisi
🇬🇪 Batumi
🇬🇪 Kutaisi Airport